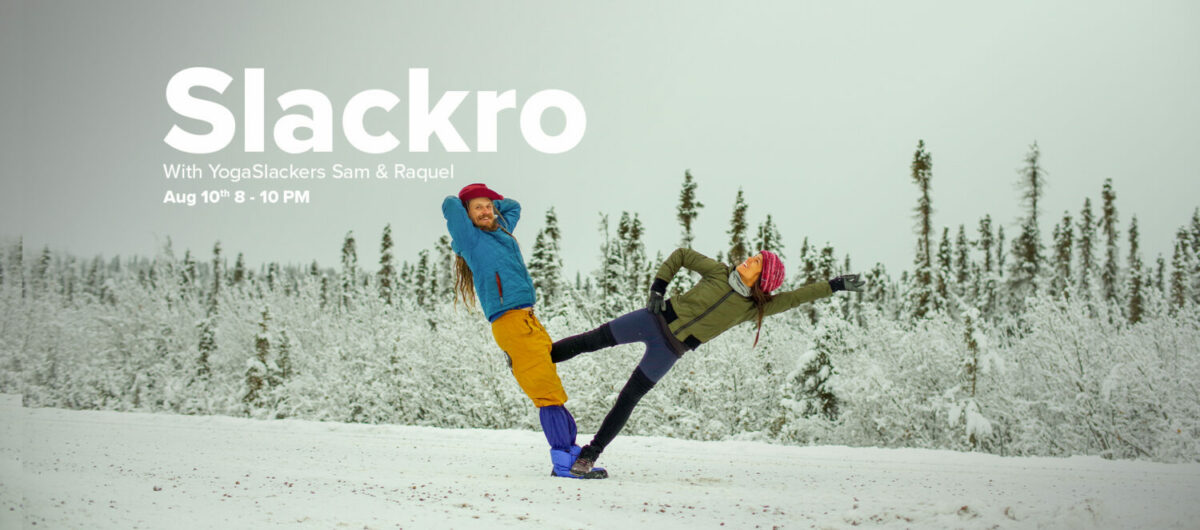 Slackro with Sam and Raquel in Atlanta
We invite you to join YogaSlackers Sam and Raquel in their first teaching tour since the beginning of the pandemic. Call your training partners, grab your mask and come explore some slackro. Slackro or duo balance as taught by Sam and Raquel is a practice inspired by slacklining. It calls on the constant balance and non-verbal communication between partners. This practice provides the opportunity for both bases and flyers to co-create balance. Sam and Raquel classes focus on slow progressions, finding ease in transitions and stillness in static poses. Their classes have a strong focus on partner calibrations and learning how each individual balances and moves. After their classes you will not only learn a new move, you will also learn effective ways to maintain your personal practice. 
You do not need to know how to slackline to enjoy slackro! 
Although after a class or two, you may be inspired to start slacking. 
COVID SAFETY
Sam and Raquel are fully vaccinated. This event is open to fully vaccinated folks. All participants and teachers will be required to wear a mask over their mouth and nose throughout the entire class. While you are not required to bring your own partner, we highly recommend you do. Once practice pods are created (groups of 3 or 4 with a minimum of one base, flyer and spotter) the participants will be required to stay on their training pods for the duration of the class. Class will be limited to 24 students.
We will continue monitoring local CDC guidelines. If guidelines for indoor gathering were to change and classes need to be cancelled, students will receive a full refund.
CLASS DESCRIPTION
FOUR STEPS: THE SLACKRO WAY
Love the ease, clean and simplicity of good old Four Steps?  In this class we will transform this classic into a fun, extra balancy slackro washing machine. This flow will help us explore the foundations of slackro and how they differ from traditional acro. Through this process we will be able to share with you one of our favorite acro moves and how it can become a little extra spicy by transforming it into Slackro.
Pre-Req:
Four Step Washing Machine (2 revolutions)




Transition from Star to Back Flying 

Transition from Back Flying to Star

Reverse Star
ABOUT SAM AND RAQUEL
Sam Salwei (he/his) was borned in the small town of Crystal, North Dakota. In 2005, during his college years and while working and living in a climbing gym – he co-founded YogaSlackers with Jason Magness (he/his). Sam is passionate about learning, understanding and improving complex systems. Since the foundation of YogaSlackers, he has been living and traveling in a 1988 vehicle, teaching slackline yoga, acro and handstands for over 15 years. In the process he strives to inspire people to follow their true dreams and break away from preconceived notions of what is or isn't possible.
Raquel Hernández-Cruz (she/her) is a Puerto Rican Marine Biologist turned yogi, slackliner and acroyogi. Raquel loves learning, understanding and exploring the roots of her practices. Her journey as a traveling yogi started in 2006 when she visited India to study yoga. After her second trip to India she decided to drop out of her PhD studies to follow her passion for movement and prioritization of physical and mental health. After extensive training in Yoga, AcroYoga, Slacklining, and Healing Arts she joined Sam, traveling as the YogaSlackers. 
This duo of modern day nomads create a playful, supportive, disciplined, and energetic environment in which learning comes naturally.  They strive to show their students that there is no limit to what they can achieve with a positive attitude, dedication, individualized training and effective progressions. What makes this couple truly exceptional is their joint ability to spark in their students the passion for movement, conscious communication and attention to detail. In fact, after taking enough of Sam and Raquel's classes, "I can't" may become as foreign of a concept to you as it is for the YogaSlackers!
BOOK YOUR SPOT & SEND PROOF OF VACCINATION TO
info@atlantaacro.com 
PURCHASE YOUR TICKET AT
https://www.atlantaacro.com/shop/yogaslackers-workshop/
More info:
www.YogaSlackers.com