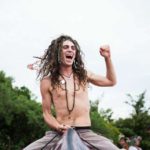 Bio
YSTT 2012, YSFTT 2016 Teased by his wanderlust while bound by his roots, Brendan learned to redirect his desire for exploration inwards as a means to satisfy his of sense of adventure and thirst for truth. When first dipping his toes into Eastern waters, he stumbled upon slacklining, and through its partnership with yoga soon found himself swept away by the strong currents of what felt like an old friend. A few years later, and a bit further downstream, Brendan has learned to craft his love for smiles into a teaching style rooted in compassion, humility and playfulness. He believes slacklining offers a unique opportunity to forge relationships with the intimate and often elusive qualities of a yogic practice and is thrilled beyond belief to be able to offer support and share what he's uncovered on his journey with family, friends and strangers alike. Though often tempted to heed the call westwards, he's committed for now to help cultivate a community for growth, healing, discovery, and play in his home of New England.   After meeting Sam in 2009, Brendan officially joined the YogaSlackers in 2012, and later became a Festival Teacher in 2016. Since joining the tribe, Brendan has taught and shared his love for slacklining locally, nationally and abroad. Though not a fully dedicated acro yogi, Brendan's practice has recently been reinvigorated by a shift into basing and all it brings with it. Always seeking balance, he has also begun to expand his yoga practice into climbing and bouldering, as well as developing a handstand practice. When not slacking, Brendan can be found traveling, climbing trees, or writing and playing music about all his beautiful discoveries along the way. Contact Email:
[email protected]
Facebook:  
 https://www.facebook.com/brendan.devincent
Instagram: @barefootbodhi  
Country of Origin
Afghanistan
Sorry,
Brendan DeVincent
has not made any blog posts yet.