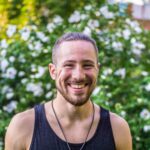 Bio
*Communication and Connection* While acroyoga and slackline appear to be a display of only physical skill, it is Nate's belief that there is more to be found in the emotional and mental aspects of these practices. Nate's teachings and personal practice have a large focus on communication and connection, both with the self, and with others. Through his own practice, Nate has found that the state of a person's internal dialogue with the self, and external dialogue with one's partners, will dictate whether an environment is setup for growth and success, or stagnation and frustration. Growing up in New England (USA), some other outdoor activities Nate has loved in his youth included playing soccer, rugby, rock climbing, skiing and hiking. He is an engineer by education, and when he isn't out being active, you are likely to find him enthusiastically discussing psychology, sociology and general philosophy in addition to scientific topics. A former civil engineer, Nate decided to leave his profession to find a more fulfilling lifestyle. He is nomadic and currently bikepacking the Great Divide Mountain Bike Route, seeking adventure and new perspective. If you would like to take a class with Nate, or have him come visit your town, shoot him a message on one of the following social media platforms! Even if you simply want to chat, he is always interested in meeting new people. ?
Country of Origin
United States
Email
nate.northey@gmail.com
Sorry,
Nate Northey
has not made any blog posts yet.