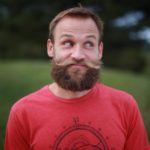 Bio
Peter has always found joy in getting others to explore their capabilities and push their own perceived limits. Acro and slackline are two great tools for this. In his home town Norrköping, Sweden you find him teaching regular acro classes at yoga studios and a local youth circus and slackline in the park. He has teacher training from Lux Seattle Acro 2017 and is a Yogaslackers teacher since 2018. Peter found slacklining many years ago. Unfortunately though, the lack of a local community and a not so developed internet made it a less frequent activity. In 2013 he and his wife Jane attended an AcroYoga course and were hooked straight away. Yogaslackers quickly became a main source of inspiration as they explored further into the world of acro and tried building a local community back home in Sweden. In 2015 they attended Sam and Raquel's Thailand retreat and finally got to try the Yogaslackers practice and teaching first hand. Apart from wanting be be a part of the Yogaslackers family this has also brought slacklining back to his life. When off the mat or offline, you will find him amongst the trees. Working in his arboricultural business or hanging out in the outdoors with family and friends.      
Email
peter.hjelmqvist@me.com
Sorry,
Peter Hjelmqvist
has not made any blog posts yet.