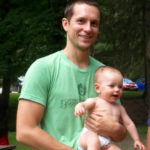 Bio
Scott loves seeking out adventures both big and small, depending on whether he has a lunch break to slackline or a summer to bike across the country.  In support of small adventures, when he and his partner Catherine moved into their new house, one of their first projects was to set up slackline anchors in our back yard.  Since they do not have enough trees in the backyard, they dug 4 foot holes and cement in 4x4 posts as anchors.  Now, 5 minutes of free time, day or night, is enough to jump on a slackline. Scott and his partner Catherine started exploring acroyoga and slackline yoga together. Scott trained to teach with AcroYoga Montreal in 2011 and 2015, and with the YogaSlackers in 2012. They have now been teaching those practices together for almost 5 years as Team WillCo - A Collaboration of Will  and challenging each other on a daily basis. They teach classes and workshops in Albany and Upstate NY, have assisted at several Wanderlust Festivals and have taught at the Massbliss Arts & Awareness Experience, the Take Me to the River Music & Arts Festival in Hastings-on-Hudson, NY, and yearly at the AREEP Trail Running Camp in the Adirondacks. As a teacher, Scott strives to enable students to explore, train and master new skills that expand their practice.  Slackline yoga and acroyoga are disciplines where everyone can find excitement, empowerment and challenge.  He strives to facilitate that experience and help students with a thirst for more to expand the bounds of what they believe possible.
Credentials:
AcroYoga and Slackline Yoga Teacher
M.S. Virology, University of Bristol, UK
M.P.H. concentration in Epidemiology University at Albany, NY
Contact:
[email protected]
Social Media Connect
FaceBook: Scott E Coley
FaceBook: Team WillCo - a Collaboration of Will
Instagram: @teamwillco
Teaching Schedule
Instagram
NorthEast AcroCamp Teaser
Video from the third annual acroyoga, slackline, camping, fun extravaganza that we organize.  
Country of Origin
Afghanistan
Sorry,
Scott Coley
has not made any blog posts yet.