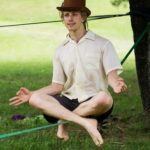 Bio
Link Zampino has a love for all things balance. Having been interested in circus arts since he was little, Link began exploring different modalities of circus and healing arts starting at a young age. Since college, Link has traveled the country, playing with friends and training with incredible teachers all along the way. As a YogaSlacker, and certified AcroYoga teacher through AcroYoga Montreal, Link offers workshops and classes aimed to bring balance back into life. Grateful to be able to share the skills that have brought him so much joy, Link teaches AcroYoga, Slackline Yoga, trampolining, and gymnastics. Link is also a state-certified massage therapist in CA, specializing in deep tissue, injury management, and Thai Yoga Massage. Link often incorporates guided Thai massage in his workshops as well as offering private individualized sessions.  To book an AcroYoga or Slackline Yoga class, workshop, or Thai Massage, please contact him through his email address:
[email protected]
"Play keeps us vital and alive. It gives us an enthusiasm for life that is irreplaceable. Without it, life just doesn't taste good." Lucia Capocchione  
Country of Origin
United States
Phone Number
845-981-9516
Sorry,
Link Zampino
has not made any blog posts yet.