12 Days of Handstands
A community funded training program
YogaSlackers 12 Days of Handstands goal is to empower participants around the world to train handstands wherever they are with the support of an online community.
In this page you will find this month's training program. We update this page during the last days of the month. Join our newsletter to receive a notification when the new training program is loaded.
We also recommend you join our Facebook group to connect with our community of supportive and dedicated handstanders around the world.
Funded By People Like You
Thank you for joining the YogaSlackers 12 Days of Handstands. This training program is supported by your contributions.
Make a one-time or monthly contribution to support the creation of handstand training videos, monthly training programs and online support. Any amount helps.
If you prefer to contribute monthly, we set up three different Paypal Subscription plans at $5, $10 and $20 per month. You can cancel your subscription at any time. But we hope seeing that small payment at the beginning of the month serves as an additional incentive to train!
Or make a one-time contribution via PayPal or Venmo (@poweredbyyoga)
Thank you!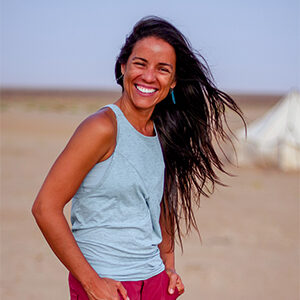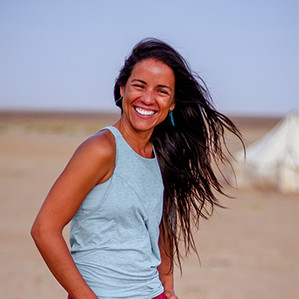 Affiliated programs
We generate some income from purchases made following these links. They don't negatively affect your final price and quite often, we can publish a discount for you. Win-win!
This Month's Training Plan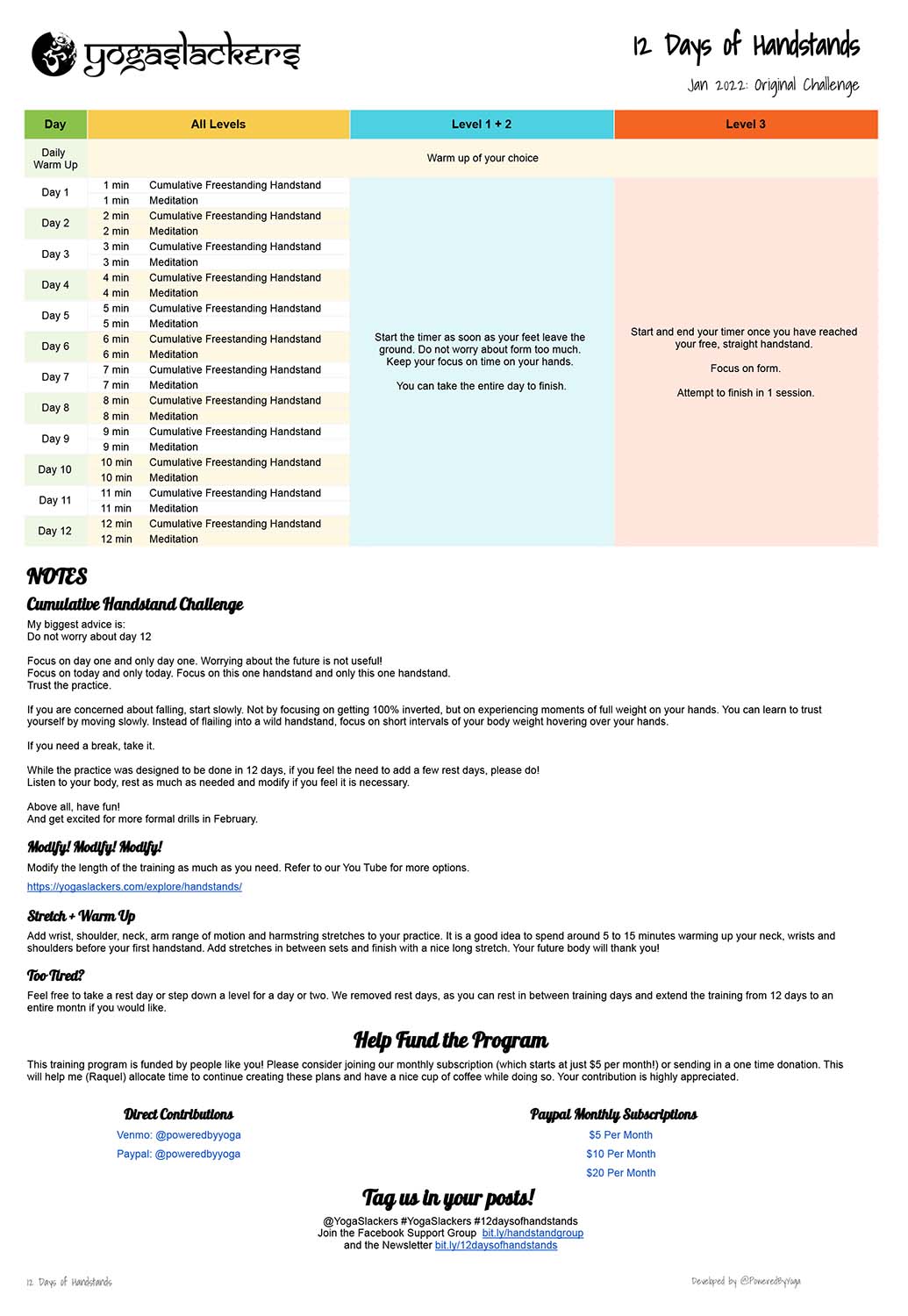 Original Challenge
The original challenge involves holding cumulative minutes. You will start a timer as soon as your feet leave the ground and stop the timer as soon as your feet return to the ground. During your next handstand you will continue the timer until you accumulate your desire time for the day.
Cumulative handstand holds are about 'time on your hands'. Form and entrance style are not as important as holding your handstand.
This month enter and exit all your handstands using a different method.
There are two main ways to do this:
1) Practice one cumulative minute handstand per day of the month until day 12th.
Example:
Day 1, 1 cumulative minute.
Day 2, 2 minutes… all the way to
Day 12, 12 minutes.
2) Or spread the 12 days throughout the month. Keeping track of what day you are on.
If you choose to practice the original challenge, attempt all your handstands off the wall. You may use a spotter to avoid catastrophic falls, but if you touch the spotter or the wall, come down immediately and try again. Please not to use the spotter to hold the handstand longer than you can hold it on your own.
This challenge is all about learning to enter a handstand and how to balance a handstand off the wall by doing small movements. If you use a wall or a spotter to go up without control or if you touch the wall and continue holding the handstands then this challenge will be less effective.
If you feel like you need a spotter or a wall to enter the handstand, then we recommend you do not attempt this level yet, and instead attempt level 1.
Level 1
Level 2
Level 3
Warm ups are very personal. What your body needs to warm up, is probably really different than what is needed by someone else.
If you are tight your warm up should focus on opening up your muscles and releasing tension. If you are very flexible, your warm-up may required more strengthening moves. If something hurts, then we need to release and prepare the muscles that support the aching joint.
There are so many variables. With that in mind, try this warm up series. It works for me and several of my students. I am looking forward to hear how it worked for you.
Full Belly to the Wall Practice with Stretching
A timed sequence for you to follow along. It features a 1 minute countdown timer. If you are holding your handstands for less than a minute – use the timer to know when is time to come up. You can even substitute some Belly to the Wall for Belly to the Ground.
It includes some stretching exercises between the Belly to the Wall Holds.
Enter a freestanding handstand. Unspotted.

Start a timer as soon as your feet leave the ground and stop the timer as soon as your feet return to the ground. During your next handstand you will continue the timer until you accumulate your desire time for the day.
Suggested Shape Variations
End each practice with meditation.
Explore how your core engagement helps you stay centered. Observe how the breath can create a shift in your center of gravity. See how you can modify your breath to take full breaths without rocking your body forwards and back. Then apply that change in your breathing pattern to your next handstand practice.
Just like in your handstand, it may be useful to video yourself from the side. This will allow you to see if you are leaning, curling or loosing your line in any way.
Post a video, image, quote or support message in our 12 Days of Handstands Facebook Group. It helps us stay inspired to practice! Post your successes, but most importantly post your struggles. Let's use this group to support each other practices.
Yes, share this page with your friends.