I'll admit, I was a fervent fan of the old eLine kit. It had everything one could want in a simple, out-of-the-box slackline set-up. Or so i thought. But YogaSlackers have done it again- they've done what they always do- they took the next progressive step after mastering the previous ones.
If you are familiar with the old eLine kit, you remember the mesh carrying bag, the YogaSlackers branded carabiners, the colorful line lock, the solid anchor piece, and the familiar orange webbing stamped with slacking yogis and inspirational quotes. Some of these things remain the same.
I had the opportunity this week to unbox the new eLine kit. The first noticeable change is that inside the mesh bag containing my slackline kit, I found two rolls of tree protection. This is a HUGE improvement on my old kit. Tree protection is important. YogaSlackers have taken a step forward, in line with their company views on environmentalism, and put their money where their mouths are, so to speak, by including tree protection in their eLine kits. Simply put, tree protection is padding that protects not only the bark of the trees you are anchoring to, but also prolongs the life of your slackline components. Many municipalities now actually require by law that the trunks of trees used for slacklining be protected from the webbing pieces girth hitched around them. By including tree protection with their new eLine kit, YogaSlackers are protecting not only the environment, but also you, and your webbing.
As I further unpack my mesh bag, it only gets better. Included in this set up are two black anchor pieces and three locking carabiners. This differs greatly from my old eLine kit. With two anchors, i don't have to girth hitch one of the trees with my actual slackline webbing. This means that set-up is quicker. It also means that i can set up a slightly longer line when i'm going to maximum length, and it means that any wear and tear at the anchor happens on an easily replaceable anchor piece instead of on my slackline webbing.

My old eLine kit comes with only two carabiners. They don't lock. This is fine, but I prefer the new locking carabiners for multiple reasons. Mostly, I prefer them from a safety standpoint. Locking biners are stronger. But I'm not gonna lie – vanity has it's place. I also prefer the new locking carabiners because the colors POP. I love the bright blue and orange combination! You may be wondering why there are now three carabiners in the kit instead of two. With the addition of the second anchor piece in the new kit, a third carabiner becomes imperative so that you can simply lock the loop of the anchor to the loop side of the slackline webbing.
If you dislike change, or perhaps you aren't ready for progress, don't despair. YogaSlackers are releasing a second kit, the eLine Light. This kit is more like the set-up of the past (two non-locking carabiners, one anchor piece) but with the added bonus of two YogaSlackers velcro pieces to use for your tree protection. While the eLine Light does not come with tree protection, instructions on how to make your own are included in the manual.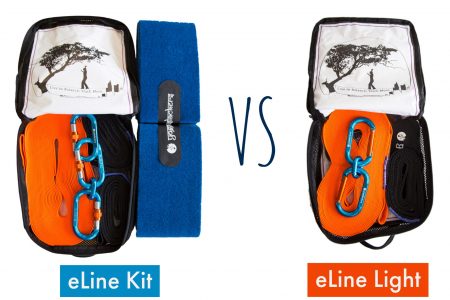 The YogaSlackers eLine is has been known for years for it's ease of use and for being a great travel line. It is now easier to use and an even better travel line. If you are a seasoned slacker, you will immediately appreciate the research and intent that went into the upgrades. If you are a beginner at slacklining the new eLine kit will make your journey to success so much smoother!