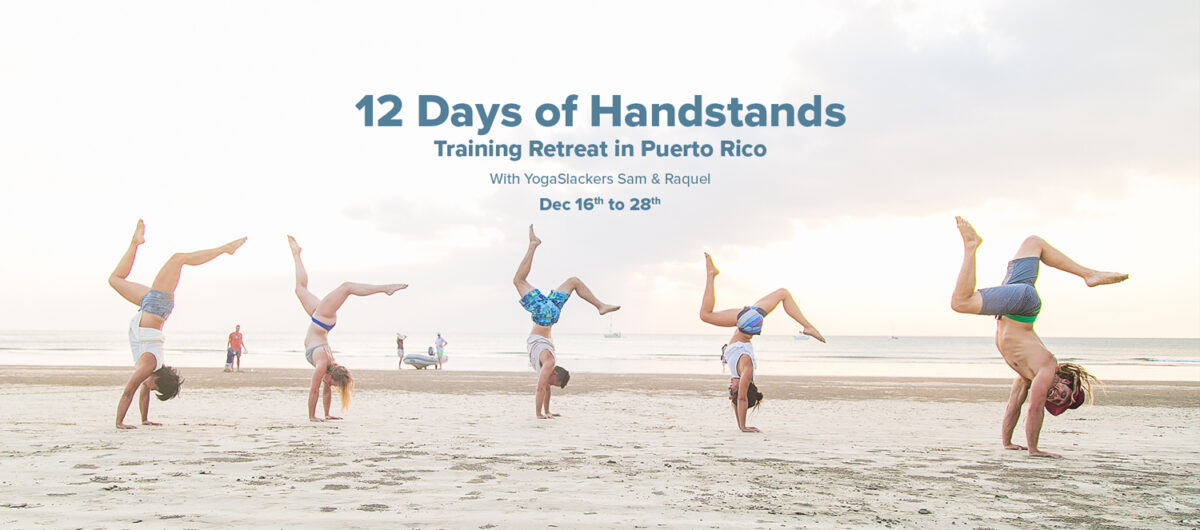 12 Days Handstands Retreat – Puerto Rico
Join Raquel and Sam in Puerto Rico this December for over 12 days of yoga and handstanding in Puerto Rico.
This event is open to fully vaccinated folks. We will practice yoga, conditioning and handstands for around 3 hrs per day and every other day we will explore the Island. Raquel – borned and raised in Puerto Rico – will take you to her favorite places! There may be some SUP Acro and Slacklining involved too.
Max number of participants = 6
COST
$900 per person
Includes housing and 1 meal per day
COVID SAFETY
This event is open to fully vaccinated folks. We will continue monitoring local CDC guidelines. If guidelines for indoor gathering were to change and the event needs to be cancelled, students will receive a full refund.
ABOUT THE 12 DAYS OF HANDSTANDS
Raquel has been hosting the 12 Days of Handstands community funded online training program since 2017. The program offers three different methods to practice handstands on a monthly basis. This training retreat will allow participants to practice in person with Raquel's guidance. The training will focus on fundamentals and personalized progressions. Participants will train in pairs focusing on form. Yoga classes will be tailored to address mobility and strength needs during handstands.

ABOUT SAM AND RAQUEL
Sam Salwei (he/his) was borned in the small town of Crystal, North Dakota. In 2005, during his college years and while working and living in a climbing gym – he co-founded YogaSlackers with Jason Magness (he/his). Sam is passionate about learning, understanding and improving complex systems. Since the foundation of YogaSlackers, he has been living and traveling in a 1988 vehicle, teaching slackline yoga, acro and handstands for over 15 years. In the process he strives to inspire people to follow their true dreams and break away from preconceived notions of what is or isn't possible.
Raquel Hernández-Cruz (she/her) is a Puerto Rican Marine Biologist turned yogi, slackliner and acroyogi. Raquel loves learning, understanding and exploring the roots of her practices. Her journey as a traveling yogi started in 2006 when she visited India to study yoga. After her second trip to India she decided to drop out of her PhD studies to follow her passion for movement and prioritization of physical and mental health. After extensive training in Yoga, AcroYoga, Slacklining, and Healing Arts she joined Sam, traveling as the YogaSlackers.
This duo of modern day nomads create a playful, supportive, disciplined, and energetic environment in which learning comes naturally. They strive to show their students that there is no limit to what they can achieve with a positive attitude, dedication, individualized training and effective progressions. What makes this couple truly exceptional is their joint ability to spark in their students the passion for movement, conscious communication and attention to detail. In fact, after taking enough of Sam and Raquel's classes, "I can't" may become as foreign of a concept to you as it is for the YogaSlackers!
BOOK YOUR SPOT & SEND PROOF OF VACCINATION TO