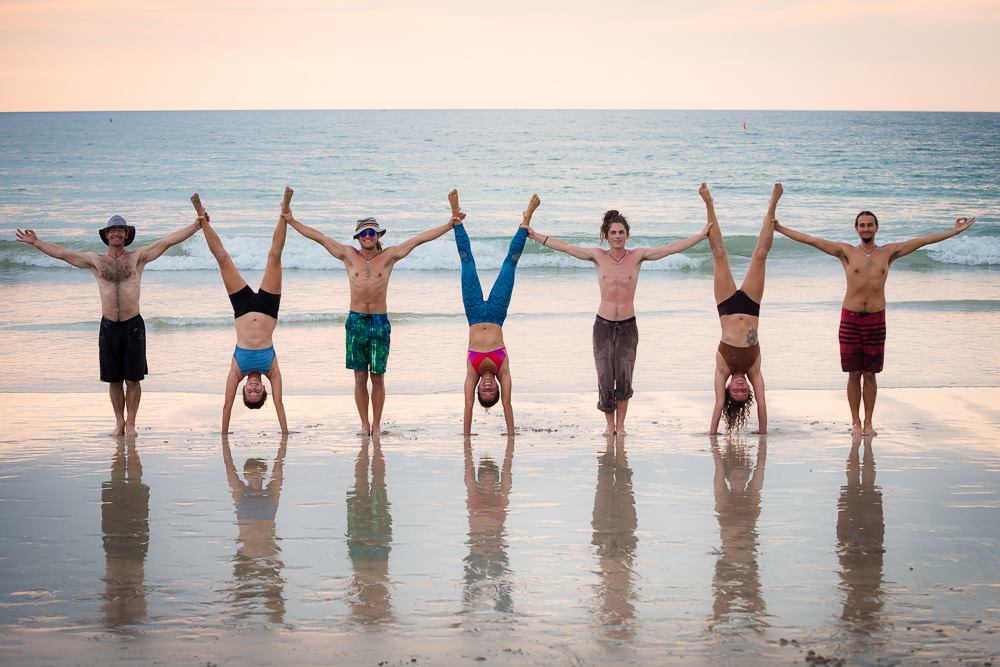 Handstands Retreat – Thailand
The 12 Days of Handstands Gatherings are a great opportunity to train in person with a supportive community focused on learning, practicing and generally having fun. This gathering will be covering the basics aspects necessary to develop a personal and sustainable handstand practice.
We will be together for 12 days!
Expect to learn a lot, practice, improve and go home with a solid understanding of the drills, programming and strategies suitable to your handstand needs.
~~~~~~~~~~~~~~~~~~~~~~~~
NOTE: This event is limited to 12 fully vaccinated participants.
~~~~~~~~~~~~~~~~~~~~~~~~
* Transport from Phuket can be arrange at an additional cost.
** 4,800B/person value. May require an additional payment if prices for this service increase.
If you would like to see the pictures of this event. Please click the link below.

Start the day with a handstand focused yoga practice. These classes will focus on inversions, core strengthening and flexibility exercises to improve your mental and physical framework. We'll start by breaking down how to convert Sun Salutations into a daily handstand practice routine.
While there's no magic pill that will make your handstand practice perfect. There is one thing you can take every day to give you all the balance, strength and flexibility required to hold a perfectly straight handstand in the middle of the room: Daily Sun Salutations.
After our Sun Salutes, we will add some flow and slow burn combinations to our practice. Classes will finish with restorative exercises and a short meditation.
Progressive workshop focused on clear understanding of how to create a safe and effective personal practice. Our practices place strong emphasis on learning the correct form, the easiest entrance pathways and effective ways to balance a handstand. You can expect to learn several drills to work on your alignment, strength and balance techniques on the ground, the wall, with a spotter and in the middle of the room.
This progressive series will help you understanding proper warm-up, preparation exercises and drills required to maintain longevity in your handstand practice. Open to all levels, from never-ever-handstand to those that want to improve their current stand.
Practitioners will learn collective drills from day one to five. As your practice develops, drills may become more individualized to help you with your desired handstands goals, skill level and fitness.
End the day with a playful time at the beach. Koh Lanta has the most beautiful sunsets. Each day we gather at the beach to play, swim, or simply chill and enjoy the view.
One day off for you to explore Koh Lanta or enjoy a Thai Massage to relax your handstanding muscles.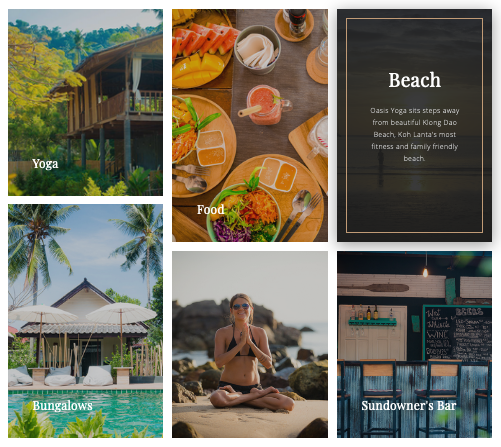 Oasis Yoga Bungalows is a boutique hotel with holistic health in mind, designed to make it simple and easy for guests to enjoy the process of caring for their health while on a relaxing holiday. It's healthy food that actually tastes good and highly professional yoga classes that are actually fun. Oasis Yoga Bungalows are Eco-Conscience and take great care to keep Koh Lanta – a stunning island south of Krabi – clean and sustainable. They compost, re-use, re-purpose, or recycle 100% of waste so rest assured your only 'footprints' are left in the sand. Their vibes are casual and friendly so it's an incredibly easy going place to make yourself at home right away. Whether you're new to healthy living or a seasoned sage, Oasis Yoga welcomes you as you are!
We have separated 6 rooms at based on double occupancy.
Private rooms can be requested at an additional charge.
Hourly Schedule
Wed Nov 30, 2022
1:00 pm

-

Pick up at Krabi Airport
4:00 pm

-

Check In at Oasis Yoga Bungalows

1st Covid Test
5:30 pm

-

6:30 pm

Welcome Gathering at Beach
Tue Dec 1st to Sat Dec 3rd
5:30 am

-

7:00 am

Yoga
7:30 am

-

8:30 am

Breakfast
11:30 am

-

12:30 pm

Lunch
1:30 pm

-

4:00 pm

Handstand Training
5:30 pm

-

6:30 pm

Sunset Free Practice by the Beach
Sun Dec 4
7:30 am

-

8:30 am

Breakfast
9:00 am

-

11:00 am

Yoga + Handstands
11:30 am

-

12:30 pm

Lunch

2nd Covid Test
Mon Dec 5
5:30 am

-

7:00 am

Yoga
7:30 am

-

8:30 am

Breakfast
11:30 am

-

12:30 pm

Lunch
1:30 pm

-

4:00 pm

Handstand Training
5:30 pm

-

6:30 pm

Sunset Free Practice by the Beach
Tue Dec 6 - Rest Day
Wed Dec 7 - Sat Dec 11
5:30 am

-

7:00 am

Yoga
7:30 am

-

8:30 am

Breakfast
11:30 am

-

12:30 pm

Lunch
1:30 pm

-

4:00 pm

Handstands
5:30 pm

-

6:30 pm

Sunset Free Practice by the Beach
Sun Dec 11
7:30 am

-

8:30 am

Breakfast
9:00 am

-

11:00 am

Yoga and Handstands
11:30 am

-

12:30 pm

Lunch
5:00 pm

-

6:30 pm

Sunset Free Practice by the Beach
Mon Dec 12
5:30 am

-

7:00 am

Yoga and Handstands
7:30 am

-

8:30 am

Breakfast
11:00 am

-

Check Out & Departure to Krabi Airport