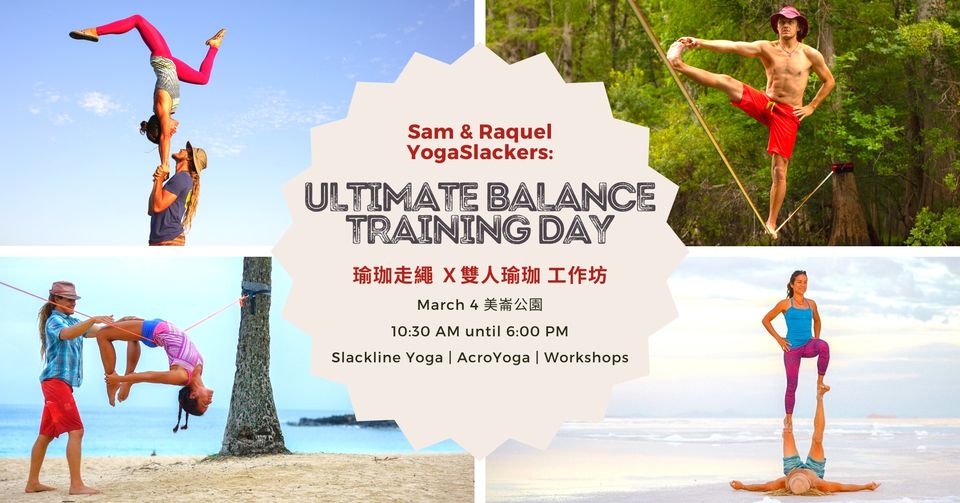 Slackline Yoga & AcroYoga with Sam & Raquel | 走繩瑜珈 | 雙人瑜珈 | 平衡訓練
The first-ever Slackline Yoga X AcroYoga workshop in Taiwan is coming soon!
Through full 4 classes will train and upgrade your balancing skills!We will have Sam and Raquel from YogaSlackers as instructors who have over-15-year teaching experience around the world. They will help students from different levels and fields to break the limit!
No matter you are a Yoga lover, Slackline lover or Acroyoga lover, it is suitable for each of you join all the classes to help enhance the overall ability meanwhile strengthen the filed you are working on!
No relevant experience at all? This is the perfect opportunity for you to try both sports for the first time! The well-experienced instructors will help students quickly progress from "I can't" to "I just did that!"
Time & Location : Mar 4th @美崙公園
◎In case of weather or force majeure, the acroyoga classes will move to indoor venue at B.Y. studio, and slackline classes will be canceled
Schedule
10:30-10:40 sign up
10:40-12:00 Slackline Yoga: Foundations (Open level)
12:00-13:20 lunch break
13:20-13:30 sign up
13:30-14:50 The Next Step in Slackline Yoga (Intermediate)
14:50-15:00 sign up
15:00-16:20 YogaSlackers Five Principles of Acrobatics (Beginner)
16:20-16:30 sign up
16:30-17:50 Slackro: AcroYoga Inspired in Slacklining (Intermediate)
Class description and instructor info:
https://reurl.cc/rZNdQb
Registration & Fee
600NTD for 1 class, 1000NTD for 2 classes, 1200NTD for 3 classes, 1400NTD for 4 classes
◎Please fill-out this registration form to reserve your spot, so the organizer can prepare the required equipment and space.
◎Maximum 25 participants per class, priority will be given to those who fill out the registration form
◎All fees pay on-site, please come 10 minutes earlier and finish the payment before each class.
◎We highly recommend you not only choose the classes in the fields you are familiar with but also classes from other fields! We believe in this way will help you improve overall body condition. You will find it FUN and most concepts you learn can be applied in different fields!
Note
◎The classes will be held on the grass. For the acroyoga classes, please bring your own yoga mat. For the slackline yoga classes, the slackline equipment will be prepared by the organizer.
◎In case of weather, the slackline classes will be canceled, and the acroyoga classes will move to indoor venue as original schedule.
台灣首發[走繩瑜珈]X[雙人瑜珈]一日工作坊來啦~
透過4堂豐富課程,將訓練並挑戰你的終極平衡力!
課程將由來自YogaSlackers團隊的Sam & Raquel老師,運用他們在世界各地累積超過15年的教學經驗,幫助各種程度、各種領域的學生都能突破自己的極限!
不管你是瑜珈愛好者、走繩愛好者、還是雙人瑜珈愛好者,都適合透過所有課程幫助到自己所熟悉領域的訓練~
如果你是從來沒嘗試過相關活動,這正是你開始的好機會!多種全新體驗一次滿足~~
時間與地點:3/4 @美崙公園
◎如遇天氣或不可抗力因素,雙人瑜珈課程將改於BY studio進行、並取消走繩課程。
課程時間表
10:30-10:40 報名繳費
10:40-12:00 瑜珈走繩-固定體式pose(適合所有程度)
12:00-13:20 午休時段
13:20-13:30 報名繳費
13:30-14:50 瑜珈走繩-更多體式與動作變換(進階)
14:50-15:00 報名繳費
15:00-16:20 雙人瑜珈-五大原則 (初階)
16:20-16:30 報名繳費
16:30-17:50 雙人瑜珈-Slackro走繩風格 (進階)
課程說明與時與師資介紹:
https://reurl.cc/rZNdQb
費用說明
600元/1堂、1000元/2堂、1200元/3堂、1400元/4堂
◎參加課程請預先填寫此報名表單,以利主辦單位準備所需設備與場地規劃
◎每堂人數上限25名,以填寫報名表單者優先參加
◎費用採現場支付,請於各堂上課前的報名時段完成繳費
◎我們十分鼓勵各位不只選擇自己熟悉領域的課程,更可以透過其他領域的學習提升整體身體能力;你會發現不只很好玩,而且很多觀念可以交互在不同領域都適用!
上課注意事項
◎課程將在草地上進行,雙人瑜珈類課程請
#自備瑜珈墊
、瑜珈走繩課程主辦單位將協助準備走繩裝備
◎穿著建議:舒適好運動的服裝和愉快的心情
◎課程皆為外師授課全程將以英文教學,現場無中文翻譯
◎如遇天氣或不可抗力因素,將取消瑜珈走繩課程,雙人瑜珈課程將如期舉辦並移至室內場地,請密切注意活動頁資訊公布。