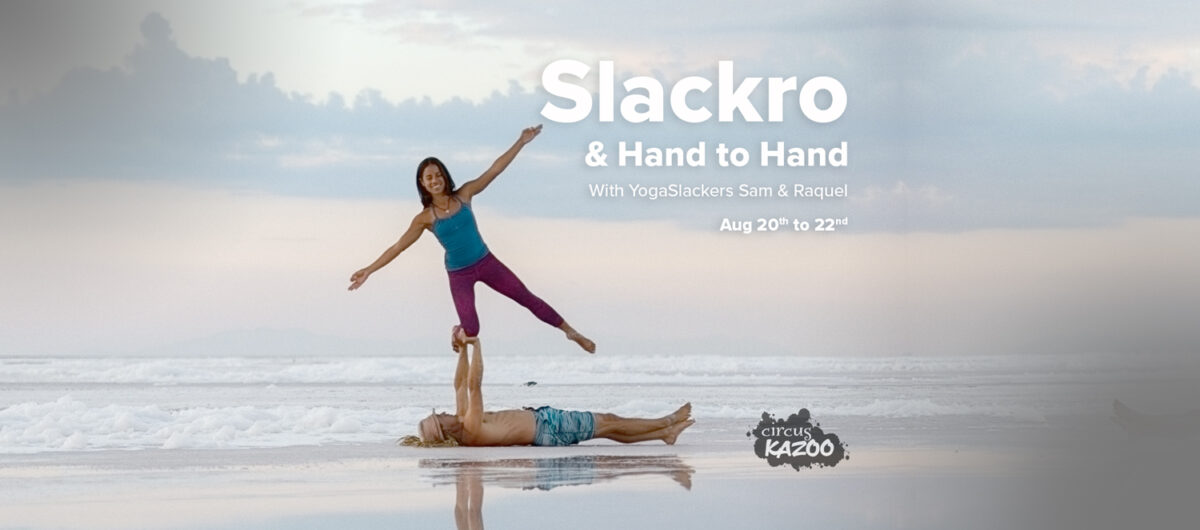 Slackro & Hand-to-Hand Weekend | Chicago Area
We invite you to join YogaSlackers Sam and Raquel in their first teaching tour since the beginning of the pandemic. Call your training partners, grab your vaccination card and mask and, come explore some slackro. Slackro or duo balance as taught by Sam and Raquel is a practice inspired from slacklining. It calls on the constant balance and non-verbal communication between partners. This practice provides the opportunity for both bases and flyers to co-create balance. Sam and Raquel classes focus on slow progressions, finding ease in transitions and stillness in static poses. Their classes have a strong focus on partner calibrations and learning how each individual balances and moves. After their classes you will not only learn a new move, you will also learn effective ways to maintain your personal practice.
You do not need to know how to slackline to enjoy slackro!
Although after a class or two, you may be inspired to start slacking.
COVID SAFETY
Sam and Raquel are fully vaccinated. This event is open to fully vaccinated people. Participants will be required to show proof of vaccination at the door or ahead of time by emailing a picture of their vaccination card.
All participants and teachers will be required to wear a mask over their mouth and nose throughout the entire class.
While you are not required to bring your own partner, we highly recommend you do. Once practice pods are created (groups of 3 or 4 with a minimum of one base, flyer and spotter) the participants will be required to stay on their training pods for the duration of the class. Class size will be limited.
We will continue monitoring local CDC guidelines. If guidelines for indoor gathering were to change and classes need to be cancelled students will receive a full refund.
PRICING
$200 for the full weekend
$150 for Friday/Saturday only
* $30 off for partnerships registering together
* $30 off for acro teachers
** Two 50% off scholarships available for BIPOC and/or LGBTQ+ participants. Contact SB for details. **
SCHEDULE
Friday:
7-9 pm Foundations of Handstand Training
Saturday:
12-2 pm: 5 Inversions
3-5 pm: Foundations of Slackro + Slacker Mount
Sunday:
12-2 pm: Four Steps
3-5 pm: Slacker Cycle
CLASS DESCRIPTIONS
Friday
FOUNDATIONS OF HANDSTAND TRAINING
The secret to improving your hand to hand and monolimb acro long holds relies on improving your handstand practice. And yes, we mean everyone: bases, flyers and spotters. During this class we will practice the fundamental poses for the 12 days of handstand training and how they relate to acro. You will learn how to improve your line, how to feel the balance point and how to safely and effectively spot each other. The moves practiced during this class will be utilized during the 5 Inversions class.
Saturday
THE 5 INVERSIONS: HAND TO HAND DAILY TRAINING
We believe the secret to a solid Hand to Hand (H2H) goes beyond practicing a lot of Hand to Hands. Instead we focus on five different inversions that allow us to work on each aspect of the H2H individually: correct body position, soft entrances, ease of movement, shoulder opening and full balance. We will share with you not just a class, but a daily routine to improve your hand to hand practice. You should be comfortable with free star, free shoulder stand and should be able to hold a handstand on the wall for 30 seconds. While you do not need a partner, we suggest bringing one. H2H is a pose that is best learned and practiced within a team.
Pre-Reqs: (15 to 30 second holds)
Free Star
Tuck Sit on Hands
Foot to Hand (Standing on Hands)
Handstand on the Wall
FOUNDATIONS OF SLACKRO + SLACKER MOUNT
Join the YogaSlackers to embark on a journey towards ultimate balance. Slackline Yogis not only train on a one inch piece of webbing. They utilize their balance skills and have developed their own style of AcroYoga: Slackro.
Their practice is centered on the idea of finding balance and stillness within movements. Is about exploring and pushing the limits of what you believe is possible on the ground, on a person and on a slackline.
This class will serve as an introduction to AcroYoga, Slackro and the YogaSlackers teaching methodology. This class will review the fundamentals of acrobatics and how they apply towards a practice that tends to break all the rules.
Pre-Reqs:
Foot to Shin (Standing on Shins)
Shin to Foot (Kneeling on Feet)
Sunday
FOUR STEPS: THE SLACKRO WAY
Love the ease, clean and simplicity of good old Four Steps? In this class we will transform this classic into a fun, extra balancy slackro washing machine. This flow will help us explore the foundations of slackro and how they differ from traditional acro. Through this process we will be able to share with you one of our favorite acro moves and how it can become a little extra spicy by transforming it into Slackro.
Pre-Req:
Four Step Washing Machine (2 revolutions)
Transition from Star to Back Flying
Transition from Back Flying to Star
Reverse Star
SLACKER CYCLE: A REVERSE STAR WASHING MACHINE
This class will focus on finding ease in Reverse Star Monolimb and learning the difference between a traditional mono-reverse star and the slacker reverse star. We will get to put some movement and action into our monolimb, moving gracefully from one pose to the other. Come challenge your perception and personal limits. You will feel the grace of moving from one 'seemingly' challenging pose to another and discover that everything is possible!
Pre-Reqs:
15 sec Reverse Star
Tuck Sit on hands
ABOUT SAM AND RAQUEL
Sam Salwei (he/him) was born in the small town of Crystal, North Dakota. In 2005, during his college years and while working and living in a climbing gym – he co-founded YogaSlackers with Jason Magness (he/him). Sam is passionate about learning, understanding and improving complex systems. Since the foundation of YogaSlackers, he has been living and traveling in a 1988 vehicle, teaching slackline yoga, acro and handstands for over 15 years. In the process he strives to inspire people to follow their true dreams and break away from preconceived notions of what is or isn't possible.
Raquel Hernández-Cruz (she/her) is a Puerto Rican Marine Biologist turned yogi, slackliner and acroyogi. Raquel loves learning, understanding and exploring the roots of her practices. She started her journey as a yogi in 2006 traveling to India to study. After her second trip to India she decided to drop out of her PhD studies to follow her passion for movement and prioritization of physical and mental health. After extensive training in Yoga, AcroYoga, Slacklining, and Healing Arts she joined Sam traveling as the YogaSlackers.
This duo of modern day nomads create a playful, supportive, disciplined, and energetic environment in which learning comes naturally. They strive to show their students that there is no limit to what they can achieve with a positive attitude, dedication, individualized training and effective progressions. What makes this couple truly exceptional is their joint ability to spark in their students the passion for movement, conscious communication and attention to detail. In fact, after taking enough of Sam and Raquel's classes, "I can't" may become as foreign of a concept to you as it is for the YogaSlackers!