Description
Order an extra anchor piece to compliment your eLine. Why? Maybe you lost your original anchor, or it got damaged and you want to keep things safe. Perhaps you want to set up multiple slacklines using a single eLine. Maybe you just want to be the slacker with the extra gear in a pinch in case it's needed. The possibilities are endless!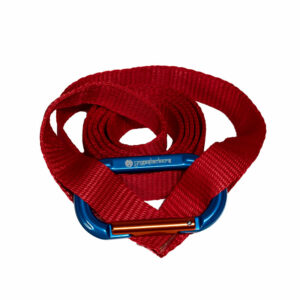 This unique webbing is a woven adjustable anchor sling that has anchor holes every 3″ (7.6 cm) to make choosing a length for your slings a thing of the past. The Adjustable Anchor Webbing is a great sling material for the fast and light slackliner that needs a way to anchor their lines to a variety of tree sizes and doesn't want to carry several different sizes of slings.
The unique weave structure of this webbing allows you to pass a carabiner of shackle through any of the anchor holes in a variety of configurations to allow for any length sling you can imagine.
Make sure to check out the rest of our website for relevant information for a safe and fun slackline experience.
Adjustable Anchor

Slotted weave with large fiber bundles for increased abrasion resistance. LineSkin Resin Treatment for increased abrasion resistance

4.70 lbs/100 feet (70 g/m)

MBS
(Minimum Breaking Strength)