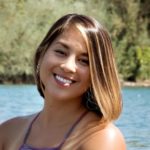 Bio
April aims to help students find an expression of stability in any circumstance of instability. She believes that a stable core is essential to everything from driving fast, manual transmission cars, mopping the kitchen floor, and--of course--yoga. Her students will activate the core in creative ways throughout class, and find a strength from within that will increase confidence in day-to-day life. April believes that with determination, diligence, and the understanding of alignment and mechanics, amazing things can be achieved within any body.  April is likened to a lizard, and prefers to do anything to make her body warm. She primarily practices yoga in acrobatic form, on slacklines, and in Vinyasa and Bhakti styles. For April, yoga is akin to breathing, but also like dessert.
Country of Origin
United States
Current Location
Sacramento, CA
Phone Number
916-743-4830
Email
aprilclatorre@gmail.com
Sorry,
April La Torre
has not made any blog posts yet.