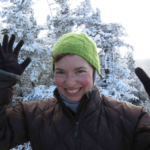 Bio
Catherine loves getting outside to play as often as possible! Sometimes that means putting on snowpants and slacklining in 2 and more feet of snow. Snow makes for soft landing when practicing new skills or longlining. Slacklining is just one of the ways she gets outside. She live in New York state, nestled between the Adirondack, Catskills and Berkshire mountains. It is a great place from which to set out for rock-climbing, trail running, cycling, hiking, snowshoeing, cross-country skiing, slacklining in a city park and doing acro under the sky! Catherine's partner in outdoor adventuring for the last dozen years has been Scott. They work together at finding big and small challenges wherever they can fit them in, whether that is getting the most out of 15 minutes of training, or setting off winter camping for the weekend.You will likely find them teaching together under the name Team WillCo. Together they started exploring acroyoga and slackline yoga. She trained to teach with AcroYoga Montreal in 2011 and 2014, and with the YogaSlackers in 2012. They have been teaching those practices together for almost 6 years and challenging each other on a daily basis.  Catherine finds a huge richness in the practices of acro and slacklining. She loves the community that makes these practices possible, and expands them. She is inspired by the progress she sees in herself and in her students when they train, inspiring her to work harder. The practices keep reminding her that strength is a much physical as it is mental. She hopes to play with you soon! 
Contact:
[email protected]
FaceBook: Team WillCo - a Collaboration of Will
Instagram: @teamwillco
Teaching Schedule
Instagram
NorthEast AcroCamp Teaser
    Every year we organize an AcroCamp in the NorthEast. Here is a video teaser from our third.  
Credentials 
Certified AcroYoga Teacher with AcroYoga Montreal Certified YogaSlacker Teacher and Festival Teacher Bachelor of Science in Architecture Master's of International Studies PhD in Sociology (in progress)   
Country of Origin
Afghanistan
Sorry,
Cathy Willis
has not made any blog posts yet.