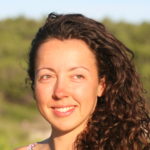 Bio
Growing up in beautiful Slovenia, Eva was always looking for sports and activities to take her into the great outdoors. The less gear and more natural the movement the better, so when Acro Yoga came along, it was a dream come true! After first discovering, Acro, there weren't many formal teacher-student learning opportunities, so Eva and her friends began to cultivate Acro Jams in their community. Always excited to learn new skills and pass them on, Eva became a widely recognized teacher in the Slovenian Acro community. Soon, after much encouragement and requests from other Acro students, Eva began to offer classes and workshops, never taking her students for granted, noting the gratitude and respect she felt from her students— her greatest inspiration. Eva recognizes two crucial elements she contributes to her growth and development as a teacher. First, her own practice, cultivating awareness and focus through many forms of movement—slacklining, areal silks, yoga, dance, and constantly exploring new modalities. The second element being the motivation and inspiration she found in the YogaSlackers. Since the beginning of her practice, the YogaSlackers were a huge motivation. Eva is so proud to be a part of this amazing group of grounded, mindful, original, and compassionate people supporting everyone within the global acro and slackline experience.  When talking about teaching acro we also have to mention that Eva, as an amazing base and flyer, can offer valuable tips for both. Being a badass base is not always easy, as there is always a line of flyers waiting for you. So in order to keep herself injury free and healthy, she constantly seeks for the ways to work together with more efficiently. As opposed to big bases that can easily throw around the fliers, she empowers the fliers to take a lead, search for the balance and help their bases to do the skills effortlessly.  Eva's vision is to inspire 'ordinary' people to become playful and explore all movements our bodies enable us to perform.  Eva hopes to raise awareness of this empowering community and how it can raise people up to accomplish their dreams.  
Country of Origin
Afghanistan
Phone Number
00386-41-296-137
Email
eva.brovinsky@gmail.com
Sorry,
Eva Brovinsky
has not made any blog posts yet.