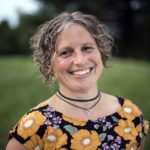 Bio
Janes childhood passion for movement (mostly gymnastics) was reignited when her two daughters started training with the local circus and she and her husband Peter discovered acroyoga. They were instantly hooked and very soon after began sharing their joy for acroyoga and partner acrobatics with others. Inspired by handstand artists she also began her handstand journey! The Yogaslackers provide a wonderful combination of a diversity of movement practices, incorporation of the outdoors and nature in the practice as well as an emphasis on community and challenging each other and having fun together. Growing up on Australia's east coast Jane had the beach, water and rainforests as her playground. For the past 20 years she has lived in Sweden and found that same inspiration in the forests and lakes of Kolmården. She's learnt to love the cold and changing seasons, but is most at home barefoot and camping. Luckily the rest of her family: husband Peter (also a yogaslacker!) and their two daughters, share this joy and they can often be found slacklining, juggling, acro-ing, climbing, SUP-ing and camping by their favourite lake.  Jane now teaches regular handstand, yoga and acroyoga classes and workshops in Norrköping, Sweden. Together with Peter she is often host to slackline and acroyoga jams in the town's Central Park, helping the local community to grow and making new types of movement and play available to more people. She organises and holds circus and acroyoga activities for youth that don't have access organised sport/movement activities, such as new immigrants and teenage girls. Jane believes that movement and balance can help everyone to a happier and more sustainable life and that people are capable of much more than they realise. Acroyoga and slackline also provide a unique opportunity to create connection and trust. When not on her hands, yoga mat or a slackline Jane works as a strategist for a more sustainable society at a local municipal council. A job where she can apply Yogaslackers philosophies of balance, trust and co-operation in other situations. We all have a responsibility in the creation of a more sustainable and we all can contribute in our own special way!
Country of Origin
Australia
Current Location
Linköping, Sweden
Email
janehjelmqvist@gmail.com
Sorry,
Jane Hjelmqvist
has not made any blog posts yet.