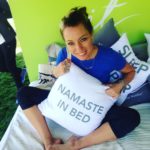 Bio
Kimberly Margaret celebrates the light AND the dark; the good days and the bad- for it is her firm belief that you cannot have one without the other. When she is not defying the necessity of sleep by expressing her deepest heart thoughts through typing fingers you can usually find her.....   ....listening to loud music, being barefoot, basking in the sun, laughing at children's antics, reading anything and everything she can get her hands on, rolling on the floor, and, of course, doing weird things on a slackline.   She has a ukulele but she doesn't really play it. She enjoys washing dishes by hand. She has been known to sort buttons for relaxation. She is a constant fan of the saying: Do something you love EVERYDAY, and is particularly fond of the phrase: Harmless as a box of kittens.   Kimberly avails herself to the public as a knitting teacher (!!!), a slackline workshop instructor, and a private coach for everything from nutrition and fitness to imperfect parenting and home organization. Should you ask for a more specific job description, she would smile coyly, and tell you, "Basically, I teach general badassery 101." More than anything, she would love the opportunity to discuss having you as a student/client.    With the catalyst of having found YogaSlackers in 2011, in the very marrow of her bones, Kimberly has come to know this: Our bodies are capable of SO much more than we've imagined for ourselves. Further, there are things we can already do with our body/mind connection that we don't even know we can do because we have never thought to allow ourselves to try!    In the current year, should you seek, you will find Kimberly fully in the throes of life's chaos- hosting retreats on her Hill Country property, navigating the nuances of an emergening, unique practice of slacking with captured limbs (!!!??), longlining in a park, doing ALL the yoga and barre; overall working toward becoming central Texas' most notorious slacker mom.       email:
[email protected]
mobile: 512.773.6131
Country of Origin
Afghanistan
Teacher Posts
My first experience with Jason Magness and Jedi Training was in June 2012 at a ten day YogaSlackers Teacher Training. It was my first experience with a lot of things. Ten days wasn't near long enough to accommodate all the disciplines YogaSlackers wanted their graduates instilled with, so we had packed days in our training […]
The YogaSlackers eLine is has been known for years for it's ease of use and for being a great travel line. It is now easier to use and an even better travel line. If you are a seasoned slacker, you will immediately appreciate the research and intent that went into the upgrades.