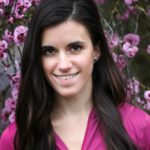 Bio
Michelle Griffith
BS Engineering Physics 200 CYT Kindness Yoga 200 CYT The Movement CenterAcroRevolution Certified InstructorYogaSlackers Certified InstructorYogaSlackers Event Outreach & Social Media Manager 
Michelle is a mountain girl through and through. Born and raised in Denver, she spent her childhood obsessively exploring the mountains, doing everything from hiking, to camping, to skiing and snowboarding. She has a knack for ambitiously approaching her goals head on, but in a laid-back, patient way. Her teaching resembles this as well.  Michelle's journey started while she was going to school for engineering in Golden, CO, when she walked her first slackline, took her first yoga class, and realized there was more to life than studying and making a lot of money after college. Her whole life changed when she met Sam and Raquel of the YogaSlackers while highlining in Colorado, and realized the possibility to live your life outside of the box, off the canvas, and out on the road. She began avidly pursuing slacklining, highlining, and acroyoga, grounding these three passions in her regular yoga practice.  After graduation, she traveled both abroad and domestically, while living out of her Toyota Tacoma for 14+ months, while obtaining her 200 hour Yoga Teacher Certification on the Big Island of Hawaii and becoming a certified YogaSlackers teacher in the summer of 2015. Michelle now resides in Moab, UT, and actively practices and teaches slacklining, yoga, and acroyoga. Although grounded, she still enjoys traveling, and enjoys igniting the fire of passion in others, regardless of the form their passion may take. She enjoys connecting with new people, and deepening relationships and trust with longtime friends and students. She uses her scientific background to break down slacklining and acroyoga in a science, teaching both arts in bite-size, manageable pieces, where every small progression is a celebration. 
Contact Michelle: 
p: (720) 883-7265 e: 
[email protected]
  w: 
www.michellegyogini.com 
Social Media: 
Instagram: 
@chelleslacks
Facebook: 
/bocoyogichelle
  Blog: 
www.michellegyogini.com/blog
  YouTube: 
https://www.youtube.com/user/michellemg91/feed
Current Sponsors:
Be'Wildher 
ToeSox
Sunski
Belong Designs
Featured Videos:
Country of Origin
Afghanistan
Phone Number
720-883-7265
Sorry,
Michelle Griffith
has not made any blog posts yet.