The wanderers of the Peace Love Car see life as an adventure, with no limit but your own imagination.
It's a familiar scene: It's Christmas morning. The floor is covered in the remnants of torn wrapping paper and packaging. And the kids are having an absolutely epic day… playing with the empty cardboard boxes.
The boxes are a blank canvas that have no instructions, no constraints, and no limitations. They give us the chance to explore the unlimited potential of our imagination. They are a tool to express our dreams. What could it be? Anything you want it to be! This is the most precious toy of all.
That's how I see life, as a cardboard box that begs to be explored.
Life is full of possibilities and potential limited only by our imagination. However, as we grow up, somehow we lose the ability to imagine. As our brains fill up with knowledge, we forget how to play, we forget how to explore, and we become focused on what can be accomplished inside the box.
Not long a go, I was watching a car commercial. The commercial started with a child playing with a convertible. He really wanted that car. It became his life's focus. He went to school with that car in mind, then onto a job with the intention to work hard to fulfill his passion. The commercial kept showing ways in which his life got sidetracked, forcing him to buy different cars that seemed more suitable and practical, until finally, in what it seemed to be the end of his life, he bought the convertible he had always wanted and was finally happy.
But why should we wait until we retire to have fun? Why should we work and work and work in anticipation of some far-off day when we can finally let our inner child loose and do what we really love? What if we don't make it in time? The one and only thing that is certain in life, for every one of us, is our mortality. Yet, somehow, we all feel like we have all the time in the world. We take our days for granted and push our dreams aside for later. But what if later does not come?
I've had the opportunity to cross paths with some amazing people who are living extraordinary lives, and some of them have faced their mortality at an early age. Yet they have been the people that seem, to me, to have lived the most, the fullest. They openly expressed their love and appreciation to their family, friends, hobbies, and work (in that order). They were not afraid to follow their passions in a way that inspired everyone they met.
I find myself very lucky to have befriended people like Dean Potter and Noah Favaregh, who inspire me to continue to live my life to the fullest and not to care about following any social conventions that do not fit into my definition of happiness. In the short time I knew them, they taught me that life needs to be experienced to the fullest. That life requires you to go outside and play with all your focus—to play with the cardboard boxes.
To some people an early death may seem like a sign that "you should be more careful" and live a safer life. But even my grandfather, who lived to the age of 65, taught me that life is to be lived fully, each day. He died one month after he retired, the day after what he called "the happiest day of his life." His life inspired me not to wait to have the greatest time of my life. Because, let's face it, we do not know how much time we have. So I pledged to have a grand life, to have an epic day, every single day that I have.
I pledge to see life as a cardboard box, filled with unlimited potential. I pledge to live every day like is the last day of my life. To love, to travel, to explore and to go to bed knowing that I have been truthful to my inner child. Why? because it is fun and it makes me happy and by being the happiest being I can be, I can help those around me do the same. What's more important than that?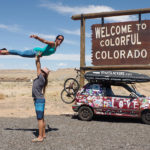 —
About the Road to Wanderlust
The Road to Wanderlust Journals were first published by Wanderlust Festival when Sam and Raquel set out to travel to all 50 states in less than one year. Driving to all Continental States in their 1988 Ford Festiva.
Edited by Ben Fullerton

Music Credits:
May It Be A Sweet Sound by Adam Pasion
Sample by General Benson
Bass Trap by General Benson