Check out the SlackerVan kitchen setup. After living on the road for over 10 years, Sam (co-founder of YogaSlackers) and Raquel have identify a list of 'must have' items for cooking on the road.
One of our goals is to be able to cook and refrigerate our food without utilizing fossil fuels.
Our robust electric system powered by solar panels and Battle Born Batteries allows us to do just that. Here is a list of our kitchen appliances and why we choose them.
This Engel portable unit has been with us since 2013 when we upgraded the Peace Love Car's kitchen. It is compact, quiet and highly efficient.
At the time it allowed us to refrigerate or freeze while living in a tiny vehicle. It is one big open space, meaning you would need to decide between ice cream or drinks and food.
Most often than not, we opted for the grownup version of storing eggs, milk, cheese, some veggies and left overs.
Now a days it serves as our permanent freezer. We replaced the lid to extend it's capacity and added a quick disconnect connection to store a water bladder on top of our frozen goods. It allows us to drink cold water with minimal effort.
Honestly, we think all cars – nomad vehicles or not – should come with one of these.
One of the reasons we decided to move into a larger vehicle was wanting more storage space. Our small cooler served us well but we needed more capacity and wanted easier access to our food. We consider purchasing another cooler version but decided that an front-open fridge would make our space feel more like a true home.
The combination of both units is enough space for a week's worth of food for the two of us.
We removed the top grid, and moved the controls into the side of the unit. This allowed to reduce the height of the fridge.
Our main complain with all of our Engel units is that they do not have an automated temperature regulator. You can set a 'number' but not a temperature. We were damaging food until we installed a thermometer with an alarm. The alarm turns on if the units are too cold or hot. While this helped us preserved our food, we did not enjoy waking up in the middle of the night to turn the fridge down.
We are in the process of connecting the thermometer to switch so it can automatically turn the units on or off depending on the temperature.
If we were to do it again, we would install the fridge off the ground. So we can search for food without having to fold into complex and tight yoga poses.
In an effort to increase our cooking and preping space we opted for a counter inset cooktop. We installed it to create one flat and continuous surface with our kitchen counter.
One thing that we didn't considered and came as a huge surprised, is that cooking in an induction stove allows us to cook with our windows wide open even during the windiest conditions. This helps us limit the food smell in our indoor space.
The first thing that is prepared in our kitchen every morning is coffee. Here is how we manage to do this highly important and often vital task.
We dream about the day when we can have a proper espresso machine, until then this Moka or Italian press coffee maker will do.
It is sold as a '4 cup' press. But we are guessing it means 4 espresso shots or servings. The most water you can fit inside of the bottom holder is 2 3/4 cups.
Some days 4 servings feel like enough for 2 people. But to be honest, most days, we need seconds and quite often thirds.
We have been traveling with our Aeropress for over 7 years. If we are leaving our van, it comes with us! It allows us to prepare delicious coffee on the go everywhere: camping, airports, hotels, friends and family houses.
We purchased a set of reusable filters that are good for coffee and tea.
These are all suitable to use with induction stoves.
Do you sense how important is coffee for us yet? This kettle with built-in thermometer allows us to know exactly how hot our water is. We use it for our coffee and also as our hot water source to do the dishes.
Both for coffee and dishes, we enjoy how much control we have over how much water we are pouring. Plus it makes us feel fancy.
With only one burner and limited power, we decided that cooking using a pressure cooker would be a good idea. It turned out to be a great idea!
We gravitated towards this designed due to it's easy to use safety lid. Got the idea from searching for Indian food recipes. So far we love our pressure cooker.
We bought a knife set – honestly – because while living in the Peace Love Car, traveling and cooking at friend's houses… we realize people's knives were often not good or dull. Something that we could never understand: having a great kitchen and sucky knives.
With time we realized two knives is more than enough. Our favorite combo is a santoku and paring knife. In a pinch, we travel with just the paring knife.
The bright pink and green color helps us easily recognize our knives. So far it has worked, we traveled with them for over 8 years and counting! We have only come across one more person with one of our exact knives.
We take these knives everywhere. Yes, even traveling internationally. It makes cooking so much easier and rewarding when you get to chop-chop with ease. We keep them sharp by regularly visiting our friend Tom Grundy!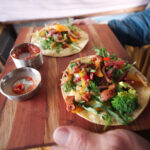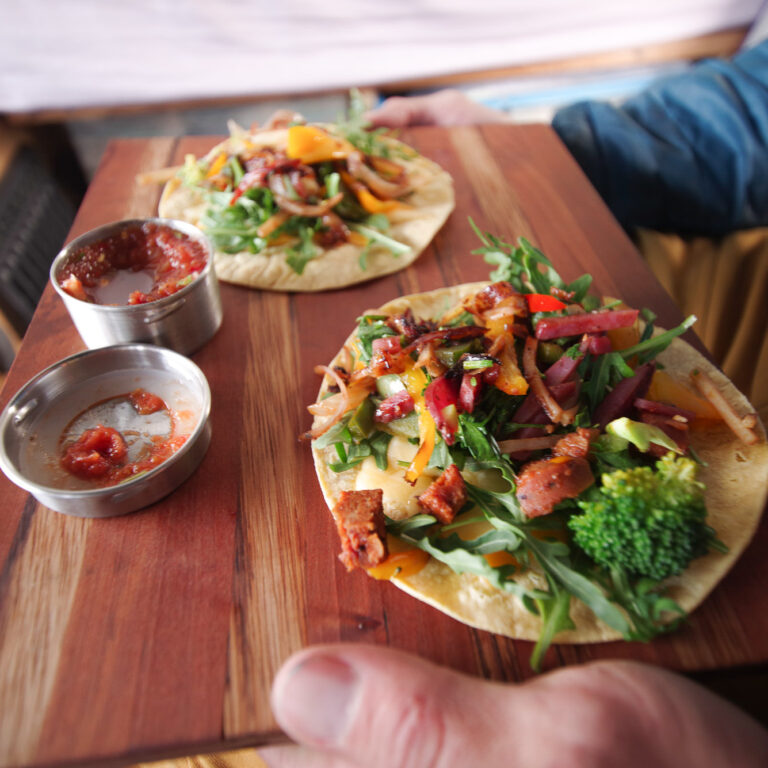 Our homemade cutting board triples as plates and sink cover. They were made from hardwood scrap pieces and a lot of love.
While we didn't plan it, they also fit on top of our kitchen drawer, converting in into extra counter space.
We also have a small bamboo cutting board. It also doubles as a plate.
These plates have been with us since the PeaceLoveCar and have travel the world with us too. We take them with us while traveling to reduce single use items.
Just a note… we don't really use the mug for it's intended purpose. We use it to store our kitchen cleaning supplies.
They come with a handy mesh bag that if stacked carefully holds two of their large plates, two bowls and a cup.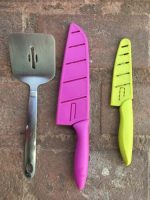 We opted for a small serving spatula for our everyday needs. Found it on a department store and so far we love it. Like our knives we use while cooking in the van and at friends houses. Mainly because we don't like change. 🙂
Our Snow Peak Titanium Mugs are one of our most precious possessions. While they don't come cheap, they are a great companion for your warm or cold needs wherever you are.
Lunatec makes our favorite dishcloth. It is so effective that we cut it in 4 pieces. We use it on the van, but also while traveling.
This handy and compact scraper goes with us every where we go. In a pinch this may be the only tool used to pre-clean plates, pots and pans. For a full clean, we use it first and then rinse with soap and water.
We purchased the GSI Crossover Kitchen Kit when living in the Peace Love Car. On our new van, we only use the scraper on a daily basis.
We do take the full kit while camping and traveling. We added a pairing knife to the kit, that we use for almost all our needs.
That's all we can think about right now. We'll keep updating this list as we come up with more stuff in the van.
Please let us know what you use in your van kitchen in the comments.