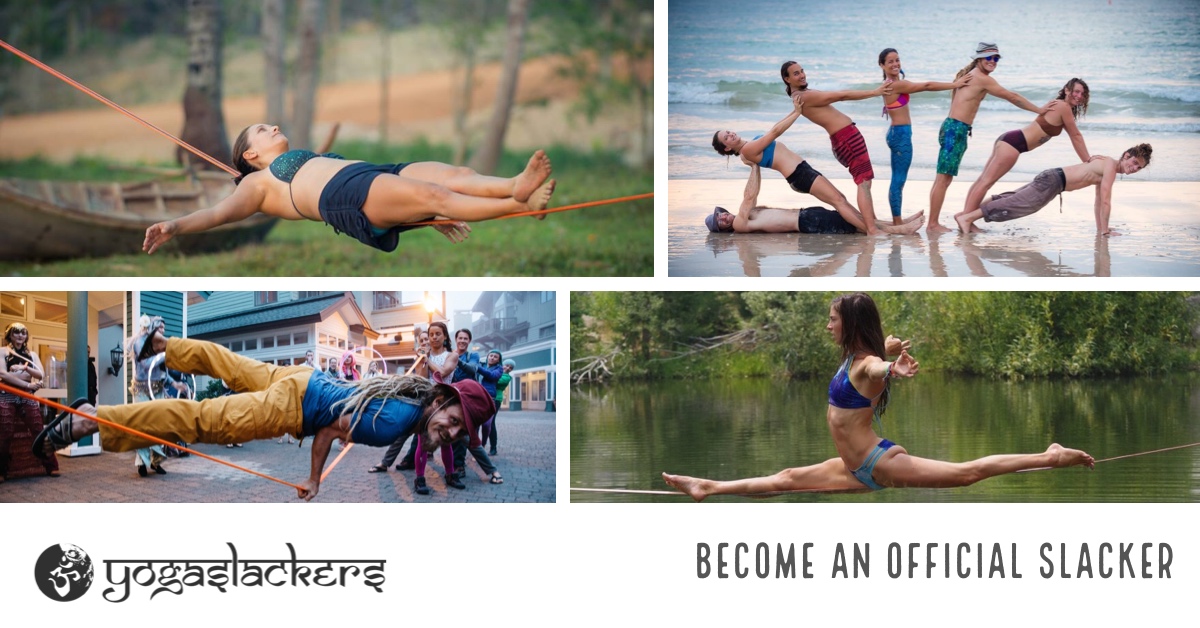 YogaSlackers Teacher Training
About This Training
Until this year, the YogaSlackers Teaching Trainings has been focused on sharing our teaching method directed mainly to the practice of Slackline Yoga. As the partner acrobatics community grows and with it the demand for detailed teaching and coaching programs, we decided that it is time to expand our teacher training to accomodate more time for partner acrobatics teaching methodology.
We are very excited to announce that we will be hosting this training in collaboration with Duo Die Acrobatics. After years observing our teaching and practice styles we came to the conclusion that our styles are very similar. While our practice (Slackro) and Duo Die's (Dynamic Acrobatics) is quite different, our approach is spot on. Our teaching and practice method are both based on safety, a strong focus on foundations and the understanding that a strong practice is developed by intelligent training, conditioning, and working together.
This two week training will kickstart your process on becoming a great teacher. While we cannot teach you everything you need to know about teaching in just two weeks – there are 4+ year college courses on this! – we can start you in the right path, and help you along the way. Those interested in the training should know that the principal goal of the training is learning how to create plans, develop progressions, find a teaching voice and improve your coaching. We will have time allocated to improving your personal practice, but our main goal is for you to leave the training ready to teach others and yourself. It will be easy to apply your new coaching and teaching skills to other forms of movement based programs.
Cost:
$3200 per person
$6000 for committed acro partnerships (Application videos must be with that partner)
Goals of the Training
Understand how to use foundations as the key to train higher level acrobatics
Learn and practice safe practice, teaching and coaching methods
Create progressive teaching and training plans (classes, workshops, series)
Practice different teaching and coaching styles
Develop writing, verbal and embodiment teaching exercises
Improve demos (verbal and physical ability)
Improve confidence in speaking to a crowd and facilitate movement based classes
Understand the process of breaking down skills and movements to their fundamental parts
Foster time management skills for classes and effective training
Skills that will be covered during the training
Slackline Yoga
Slackro
Hand to Hand
Foot to Hand
Icarian Pops
L-Base and Standing Acro
Conditioning
Training Pre-Reqs
We expect you to be able to do 100% of them… ok maybe 80%. But, there are some exceptions… Like doing a one arm handstand on the line. If you can do that, we will teach you the rest! At the time of application if you are still struggling with anything, let us know. We can refer you to a YogaSlackers teacher to get you ready. If the acro is a sticking point, we will help you with some drills that can get you ready for the training.
Self-Practice
Push ups x10
Tripod Headstand Circles x5
Cartwheels (both directions)
Single Leg Press
Straight Inversions
If you need help with your inversion practice, join the 12 days of handstand Facebook Group. We send a free training program for the 1st to the 12th of each month. Or join our 12 Days of Handstands Newsletter to get the training sent straight into your inbox.
Headstand (1 min)
Forearm balance (+10 sec)
Handstand on a wall (30 sec to 1 min) or free standing (+10 sec)
Slackline Fundamentals
Check this video to review the slackline yoga fundamentals. We would like to do each for 30 seconds to 1 minute unless stated.
Basic Transitions
This video will help you learn the Slackline Fundamental, Advance Fundamentals and basic transitions.
Walk the entire length of an eLine (15 m or 50 ft), turn around and walk again. ('Full man/woman')
Kneeling Vinyasa (Switching Knees)
Single Knee Drop (each side)
Sit to Stand, Chango or Knee Drop entrance (one of these three variations, both sides)
Basic turn
Partner Acrobatics, AcroYoga and Slackro Pre-Reqs
base and fly
(in a same size partnership or using a size advantage ex: flyer smaller than base)
Candlestick Shoulderstand
Free Star
Reverse Star
Shin to Foot
Foot to Shin
Foot to Hand
Tuck Sit on Hands
Cartwheel to Straddle Bat
Star to Back fly to Star Transition
Slacker Mount
base or fly
Bird to Star to Bird transition
Plank Straight Throw (bird pop)
Reverse Star Monolimb
Crock on Feet
Hand to Hand with a controlled exit
Gate on Hands
Additional Pre-Reqs
CPR/First Aid or Wilderness First Response
We will be hosting a WFR course in Bishop, CA in September. If you are interested in participating send us an email [email protected]
Non-Violent Communication
Consent Awareness
Some teaching experience
Prepare Your Application Documents
Along with a full application form (Apply Here) you will have to send links to your statement of interest as well as a few pictures and videos. We suggest you start gathering those, add them to a google folder.
Statement of Interest
In 500 words or less, please tell us why you want to be a YogaSlackers Teacher, and what you would like to do after the training in terms of teaching, practice, creating community, etc. Also include what you hope to gain from the training, other than the "blessing" to teach using the YogaSlackers name.
List of Images
Headshot
Favorite Slackline Yoga pose
Favorite Acro or Slackro pose (base or fly)
List of Videos
Walking the length of a 35+ ft slackline
Jumping into and out of a handstand (no spotter), 3 repetitions
15 sec handstand on the wall (side view)
Favorite Acro or Slackro flow (15 sec to 1 min)
Cartwheels (both directions)
Required Reading
Farhi, Donna. (2006). Teaching Yoga: Exploring the Teacher-Student Relationship. Rodmell Press.
Rosenberg, Marshall B. and Deepak Chopra. (2015). Nonviolent Communication: A Language of Life, 3rd Edition.PuddleDancer Press.
Recommended Reading
Prabhavananda, Swami and Christopher Isherwood. (2001). How to Know God: The Yoga Aphorisms of Patanjali. Hollywood: Vedanta Press.
Coulter, H. David. (2001). Anatomy of Hatha Yoga. A Manual for Students, Teachers, and Practitioners. Body and Breath.
Need More Help?
Contact Sam and Raquel for slackline yoga and slackro online training. [email protected]
Contact Dane and Caitlin for hand to hand and dynamic acro online training. [email protected]
Frequently Asked Questions
Who is part of the teaching team?
Sam Salwei, Raquel Hernández, Emily Baxter, in collaboration with Caitlin and Dane of Duo Die Acrobatics, plus other amazing teachers. We will update this list as we confirm more teachers.
Can I apply for financial assistance?
The application form has a section that addresses the need for financial assistance. After we review all applications based on skill level, teaching interest and overall strength of the application, we look into providing financial aid for those who have been accepted into the training and are in need of financial aid. Your best bet to get financial aid is to have a strong practice, a huge desire to teach and can demonstrate that you wouldn't be able to participate in the training without it.
Can I apply for a work trade opportunities?
Yes, we have a very limited amount allocated as work trade opportunities. These must happen before the training, not during the training. Send us a message with the skill that you would like to trade in exchange for partial training payment.
What are the accommodations like?
You will be staying in a triple shared room. All rooms are equipped with a private bathroom, mini-fridge and kettle.
What are the food options?
The training includes breakfast, lunch and dinner buffet in a vegetarian Thai cuisine diet. You will be able to purchase additional food from the hotel's restaurant.
How many students will you accept?
24
When and where would you have another teacher training?
We are not sure yet. We do like to allow a 2 to 1.5 yrs space between teacher training events.
Need More Info?