Description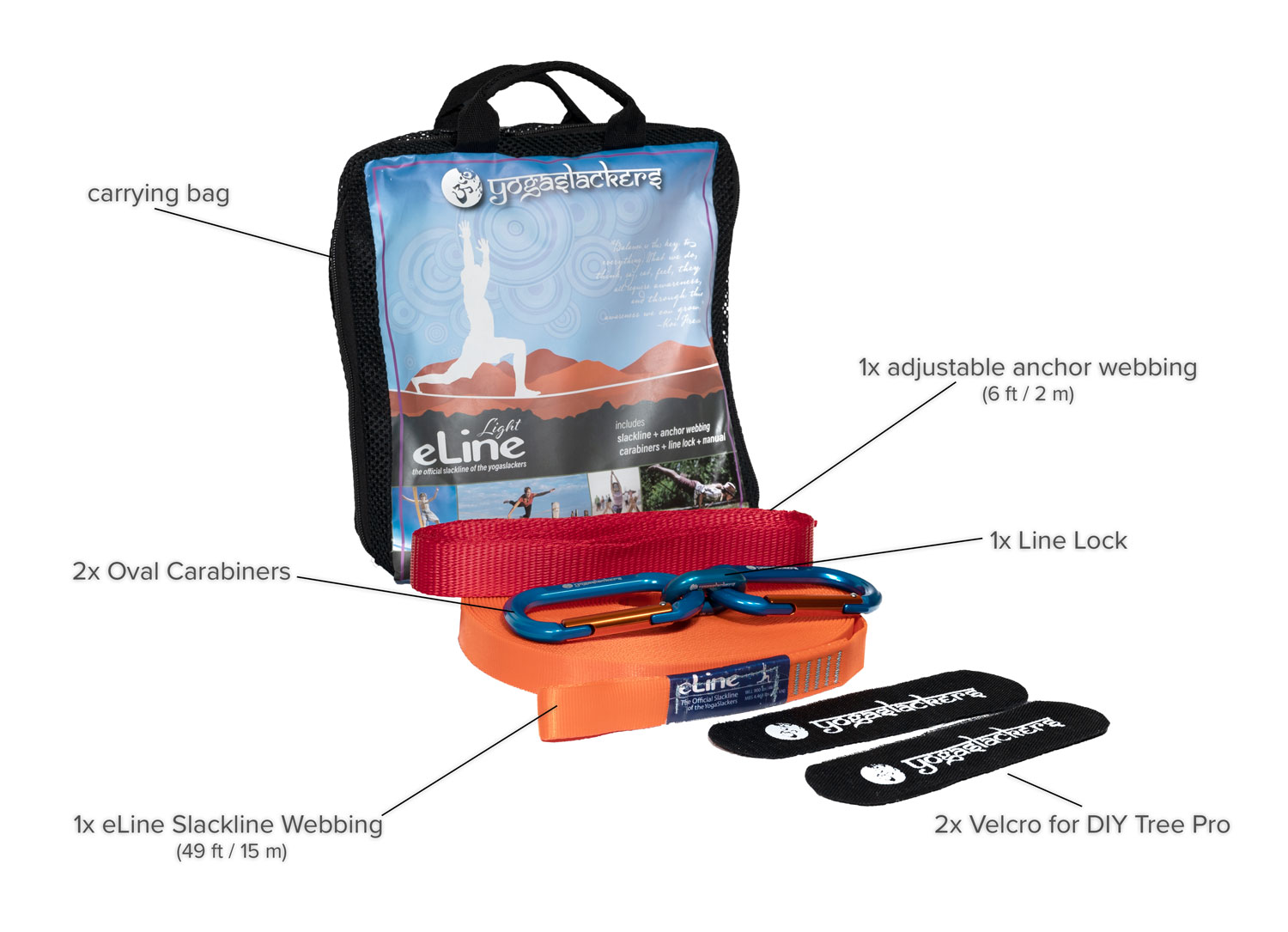 Our eLine webbing was developed with yogis and beginner slackliners in mind. The line is soft to the touch, semi-static and bright. The setup and take down are simple and can be done by a single person in just a few minutes. In addition the fiber is weather resistant so you can leave it set up in the yard without worrying about water or sun damage.
The line and rigging are light, compact, and easy to carry, making the eLine Light Kit an incredible travel companion. We recommend using tree protectors (not included), but it is good to know that the eLine anchoring system is much less aggressive on tree bark than other slacklines in the market.
We feel it's important to warn you that the eLine is highly addictive, incredibly fun, and once people see you playing on it, they'll want to come walk the line too! While it was designed for beginners, it is our favorite line of all times.
If you're curious about slacklining, this is the perfect line to start with.
NOTES ABOUT THE COVID KITS
The pandemic slow down our manufactures and suppliers. While we wait for new supplies to arrive, we are including a different anchor. This 'Covid kit' features a red adjustable anchor. It will look a little bit different than the one pictured on your eLine bag but you will be able to use it in a similar way, and allows even more ways to anchor your slackline.
Thank you very much for supporting our small business!
Please note that this kit does not come with tree protection.
You will have to make your own. We recommend using two 8 in x12 ft strips of outdoor carpet from your local hardware store.
Use the included Velcro to keep the carpet in place.
Make sure to check out the rest of our website for relevant information for a safe and fun slackline experience.
eLine Slackline Webbing

Bright orange webbing with one sewn loop. YogaSlackers eLine label with space to write your name.

MBS (Minimum Breaking Strength)

WLL 5:1 (Working Load Limit)