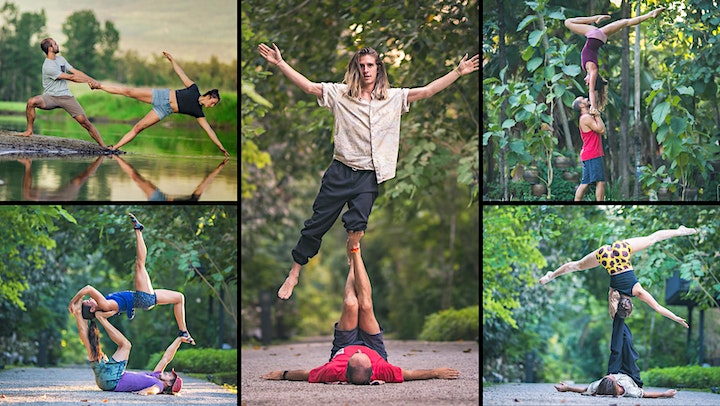 2024 Thailand Retreat
YogaSlackers Thailand Retreat
Discover the ultimate fusion of practice and progression as we invite you to embark on a transformative 7-day training "retreat."
This immersive program is a deep dive into the world of movement, featuring an array of disciplines including yoga, handstands, slackline yoga, acroyoga, and conditioning. Coinciding with our inaugural week of our teacher training, this event offers a unique blend of relaxation and rigorous learning. While you indulge in extended afternoon rejuvenation, our teacher trainees will engage in an extra 2 hours of focused instruction.
Designed for individuals eager to elevate their practice, this retreat is tailored for those who may not aspire to teach or who already instruct and wish to immerse themselves in our curriculum without seeking an additional certification.
Anticipate an engaging, progressive atmosphere that prioritizes foundational growth. By day's end, you'll retire to your room, pleasantly fatigued from the day's enriching experiences.
$1500 per person or
$1200 until June 1st
At YogaSlackers, we are dedicated to fostering inclusivity and embracing diversity. We actively promote equal access to our transformative teacher training by offering scholarships based on financial need, with a specific focus on empowering underrepresented groups such as BIPOC and the LGBTQ+ community. Moreover, we extend a warm invitation to locals, particularly encouraging Thai nationals to connect with us, as we strive to create a welcoming space where everyone can thrive.
Why Participate of this event?
Our decision to create a holistic training stems from insightful experiences in various specialized retreats focused solely on yoga, acro, handstands, slacklining, or conditioning. This holistic approach harmonizes these disciplines, optimizing the benefits for our bodies. Each distinct modality contributes to enhancing strength, stamina, skill, and balance, while actively preventing overuse injuries.
Are you a dedicated handstand practitioner seeking to safeguard your wrists from strain? Imagine refining your inversion practice, be it on a partner's support or on a slackline.
For acroyogis and acrobats desiring enhanced stability independent of a partner, envision honing your skills on the slackline and improving your solo practice!
Are you a seasoned slackliner or a newcomer to the art? Join us in mastering the art of self-movement and partner training on and off the line.
This retreat promises not just learning, but an odyssey of self-discovery, focused training, and skill enhancement. Embark on this journey to redefine your limits and unfold new dimensions of movement mastery.
| Start | End | Activity |
| --- | --- | --- |
| 6:30 | 7:00 | Coffee & Tea |
| 7:00 | 8:00 | Yoga |
| 8:00 | 9:00 | Breakfast |
| 9:00 | 10:30 | Slack |
| 11:00 | 12:30 | Handstands & Conditioning |
| 12:30 | 1:30 | Lunch |
| 1:30 | 15:30 | Extended Break |
| 15:30 | 16:00 | Snack |
| 16:00 | 18:00 | Acro |
| 18:00 | 18:30 | Stretching |