SlackerVan
YogaSlackers Nomad HQ
1988 4×4 Mitsubishi Delica L300 Exceed
2.5 L Turbo Diesel, mid engine
5-Speed Manual
High-/Low-Range Gearbox
Limited Slip Differential
7,400 pounds fully loaded with two crew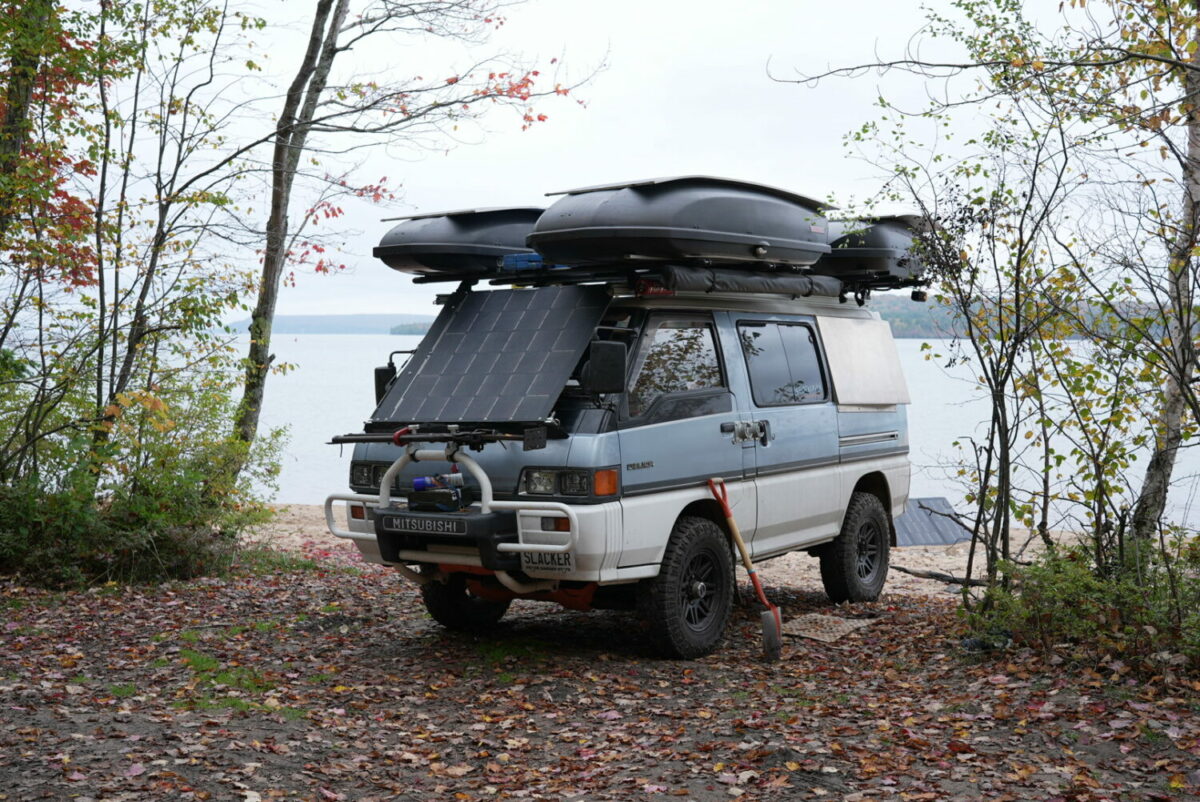 We – Sam and Raquel – have created a Patreon page in an effort to create economic support to develop content related to living on the road. 
Living nomadically during a pandemic has been tough. Your contribution will help us separate time to film, photograph, edit and write about different aspects of living on the road. While reducing our worries about daily expenses and not being able to teach yoga, acrobatics and slacklining in large festivals like we used to.  
Why Choose a Delica L300?
Diesel vehicles tend to be long lasting. We also wanted a flexible fuel source; with minimal modifications we could drive off waste vegetable oil if needed.
Having 4×4 is great to get yourself out of trouble and add some safety when driving in the winter and/or back roads.
If you know how to drive a manual car you probably agree with us when we say they are simpler. They are also lighter vehicles, their parts are less expensive to repair and easier to rebuild. Plus you can push start them if the starter motor or battery dies.
Small footprint and maximum indoor space
We wanted a car that was easy to maneuver off road and easy to part in the city.
Older vehicles tend to be simpler to maintain, fix and modify. Something to keep in mind when headed to remote locations.
Older vehicles are cheaper to insure and register. Parts are usually – not really in this case – easy to find. Plus, if the vehicle is relatively efficient, the environmental impact is less than that of making and purchasing a new vehicle.
List of Modifications
This list was compiled with the help of
Jack Mac
for
Mitsubishi Delica L300 4×4 – "SLACKERvan"
article published on
Expedition Portal.
4D56T 4-cylinder turbo-diesel (upgraded turbo to a TD04HL-13T, additional electric boost controller (9psi, 14psi, 18psi and 21psi) to help with temperature control and better performance at elevation
V5M21 5-speed, a stiffening plate from an L200 transmission increases the strength of the case
Removed EGR valve
Installed catch can
Electric vacuum pump (removed mechanical original as the oil line is a common point of failure)
4.875 gears
Limited slip differential in the rear axle
Superwinch manual hubs (switched out our Auto hubs for more reliability and 2WD low range)
Custom Alcan rear leaf pack with military wrap eyes
Rancho RS9000 XL front shocks
Monroe Air Shocks rear shocks
26-millimeter torsion bars
Upgraded from single-piston calipers to dual-piston calipers
All stainless steel brake lines
Fuso 1-inch master cylinder
16×6 inch Raceline alloy wheel
215/85R16 Goodyear Duratrac tires
Hi-Lift jack
4x 2-inch receiver hitch on the back
Soft shackles
Stock skid plates
Chain hoist
Driving Lights + Night Vision
Internal Build and Storage
Aluminum frame around kitchen and electrical storage
Plywood construction
Vertical plywood support with router channels to eliminate the need for metal sliders
Large storage boxes made out of wood (fits on vertical plywood) and corrugated plastic sides (to reduce weight)
Made to be easily removable and brought into hotel rooms or houses for packing
Small boxes made of corrugated plastic
Interior and Exterior Lighting (MiLight)
50 feet of six wire LED strip lighting. Eight separate zones. All colors are adjustable and can be dimmed. This includes external auxiliary lighting and inside and outside of our roof boxes.
Electronic boost controller
Diesel boost gauge
Exhaust temperature gauge
Water temperature gauge
PSI (air compressor under the van)
Air pressure shocks
Additional Roof Components
Six Merlin Solar Panels (total 1,065 watts)
240-watt semi-flexible panels mounted to Yakima SkyBox 21 Carbonite
240-watt semi-flexible panel mounted to Yakima SkyBox 12 Carbonite
185-watt semi-flexible panel mounted to the Yakima RocketBox Pro 12
160-watt Rigid panel bonded to aluminum honeycomb board, which slides out to cover the windshield
80-watt Rigid panel bonded to aluminum honeycomb board, mounted to the right side custom aluminum pop-out
160-watt flat-folding panel under the bed
Lizard Skin Ceramic Insulation (to reduce radiant heat)
Lizard Skin Sound Barrier (removes tin box sound and vibrations, lighter easier to use solution than kilmat)
Oros Apparel Aerogel Impregnated Foam (Insulates high heat areas, over the engine and aluminum pop-outs)
Havelock Wool (hard to reach places, doors and frames)
Neoprene Insulation (roof and exposed metal areas)
Polystyrene Foam (used on floor, between ribs to create a flat floor)
12-volt DC air conditioner
12-volt fan
600-watt 12-volt infrared forced air heater
Two 12-volt DC radiant heat panels (foot of the bed, 35 watts; head of the bed, 72 watts)
Building Blogs
And other random SlackerVan adventures.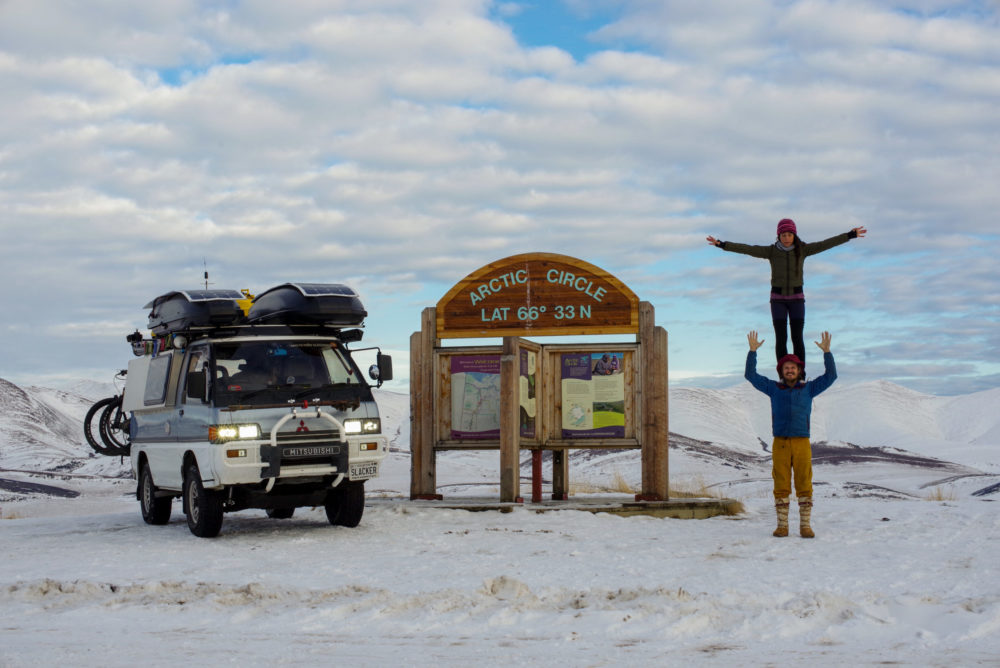 Did you know that there is not a true antonym for the English noun nomad? We learned this the hard way earlier this year, when we were unexpectedly required to "stay put" and stop living nomadically during the COVID-19 pandemic.
Read More »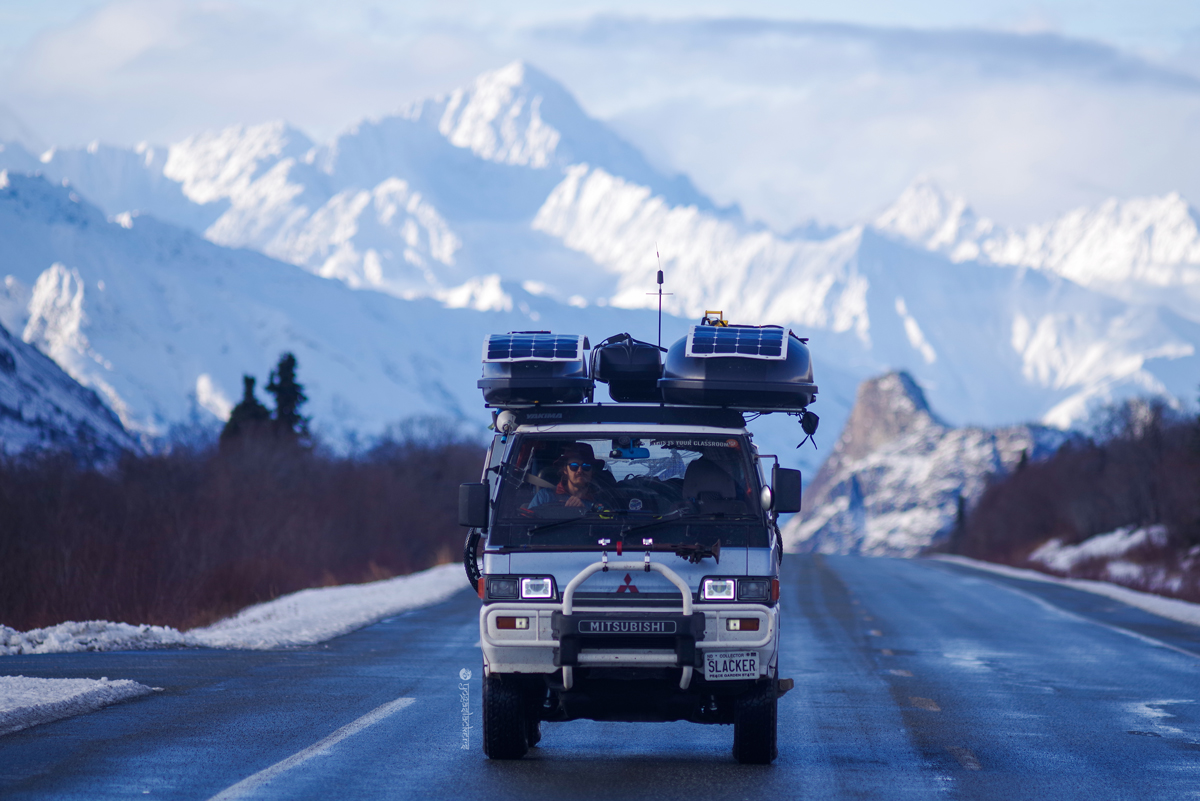 A 1988 Mitsubishi Delica is our home, office and adventure mobile. Check it out.
Read More »
We tried to load images in Instagram every week. A few comments and likes from you will help us stay motivated. Like our Facebook page: YogaSlackers Nomads and stay informed of our travels, gear use and other fun adventures.
Let us know what you want to see, and we'll load it!
These are companies that support our nomadic lifestyle. We use their products because we like them. And requested affiliate codes to share with our friends and family. Purchasing products directly on their website by following these links, will pay us a small incentive, without costing you anything.
Yes, please. Share this page!